Tips for Starting Your Own Orton-Gillingham Private Tutoring Business
You may have been thinking about starting a tutoring business… but you're not really sure… where do you even begin? Students who need Orton-Gillingham services are not always able to access them in their school or homeschooling setting, so we need your private services now more than ever!
Enjoy this guest post by Jill Kohlenberg. Jill and I are the co-creators of Tutor Success Academy.
Many tutors kind of "fall" into the tutoring business. No plan, they just get started, and they run into problems that could have been easily avoided with a little bit of planning. OR they get hyper-focused on all of the details and getting everything right, and it just keeps them from even getting started.
We want to find that happy medium between "winging it" and "obsessing over details that don't matter yet" in this little business planning session. Let's focus on 5 simple areas you need to pay attention to when you're just getting started.
Get clear on the services you'll begin with.
This is the time to get clear about the kind of tutoring you do and who is the best fit for your services. For now, it is helpful to focus on one or two areas. You want to be able to clearly communicate the type of services you offer and which students are a good fit. This will make it a lot easier when it is time to reach out and share your services. The more clarity you get NOW, the easier it will be to connect with the families who need you the most.
As a tutor, you are stepping into the role of "business owner". We already know that as an educator, you are a great planner! But now we need to think through the logistics of how you do what you do. You will need to be able to communicate these clearly, but remember your business will evolve. So plan for what you need to set up to get started ASAP, and know that you can always change things down the road. You can start with pricing, location, frequency/length, and any requirements (like tech) if you are tutoring online.
Take stock of your materials.
I know, I know… You want to help everybody! Do you have the resources and materials to help everybody, though? Since we want to get started tutoring quickly, the reality is during those early years you will need to be a bit "scrappy". You usually don't have access to your school's resources as a private tutor, so it is a business-savvy decision to take stock of the resources you already have available and prioritize tutoring that can be done using those resources in the beginning.
Learn more about organizing your Orton-Gillingham materials here: I Just Finished My OG Training… Now What? Part One: Organizing Teacher Materials
This can make or break your business. POLICIES. You don't need to have everything perfectly figured out, but you will save yourself a lot of headaches if you plan for the inevitable. Here's the reality…people will take advantage of your generosity a lot less when they see you have a plan in place. Remember, these policies will evolve and you can tweak them as you see what works best for you and your business. For today, let's get some basic guidelines in place. You can create general policies for payments (methods, due dates, late payments), cancellations, late arrivals, and setting up a successful learning environment if tutoring online. 
As a teacher, your students come to you. As a tutoring business owner, you need to create the path to you and send out the invitations! In the beginning, reaching out to the connections you already have is the best way to start spreading the word that you are available for tutoring. However, if you are able to set up a basic digital presence and/or have materials that can be passed along, then you'll be 10 steps ahead in the game!
Can we go ahead and throw a bonus step in here?
Set up a business bank account! It will get you on the right track for managing your business financials.
Of course, to run a successful business, there is a lot more to learn. That's why finding support and learning from others who have "been there, done that" is so helpful– and motivating! As you get started on this exciting path, take every opportunity you can to connect with other private tutors and learn from their experiences. This "tutor world" is a great place to be a part of!
Are you seeking to plan a tutoring business with motivation, strategy, and inspiration?
The Tutor Success Summit brings together an amazing collection of leaders!
You'll have 3 days of incredible trainings that will leave you inspired to take action and propel your business to the next level. Enjoy three months of online access to all the trainings.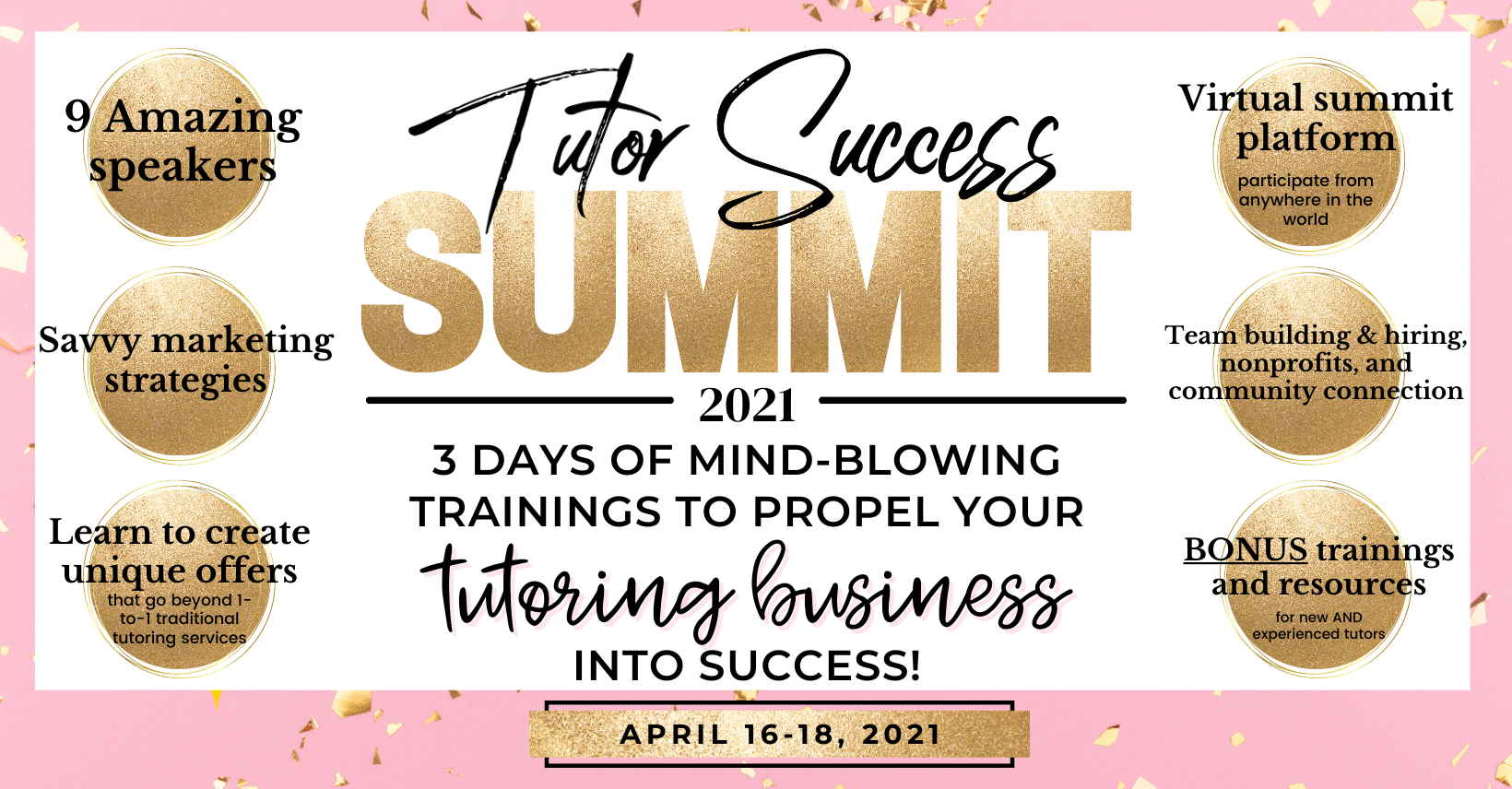 Thank you for stopping by today. See you at the Tutor Success Summit!