Part Three: MORE Children's Books About Dyslexia
October is Dyslexia Awareness month. Dyslexia Awareness Month has two big goals.
One is to educate people with the facts about dyslexia. What is dyslexia? How is it best remediated? What are the signs?
The other, and perhaps more important part of this campaign, is the social and emotional side of dyslexia. We strive to educate parents, communities, schools, teachers, and individuals with dyslexia about the feelings and social challenges that often accompany the diagnosis or the time before a diagnosis. It is important to educate classmates about differences and reduce stigma. Sadly, many students with dyslexia experience bullying or being treated as if they are stupid, despite often having above average intelligence and strong skills in specific areas. The way to stop the stigma is through education and these books do a great job in tackling the social/emotional side of what it means to be a student with dyslexia.
Dyslexia Awareness Month is a great time for people with dyslexia to learn more about their learning difference(s). It is also an opportune time for their family members, friends and classmates to learn more about dyslexia. (This post contains affiliate links.)
What better way to introduce these topics than through books!
Here is a list with 11 children's books about dyslexia. Since this is PART THREE in a collection of posts I have, you may want to check out Part One 12 Children's Books With Dyslexic Characters You Can't Miss and Part Two in the series,

Dr. Dyslexia Dude by Dr. Shawn Robinson and Inshirah Robinson
Dr. Shawn Robinson is on the Board of Directors of the International Dyslexia Association. He researches and writes on the intersection of race and dyslexia. And, he has dyslexia. This graphic novel takes a humorous and inspirational look at life with dyslexia. The main character is an African American boy with dyslexia. Inspired by his real-life experiences, this story shows children an inspiring story of how with the right instruction and supports, students with dyslexia can achieve just about anything their heart desires.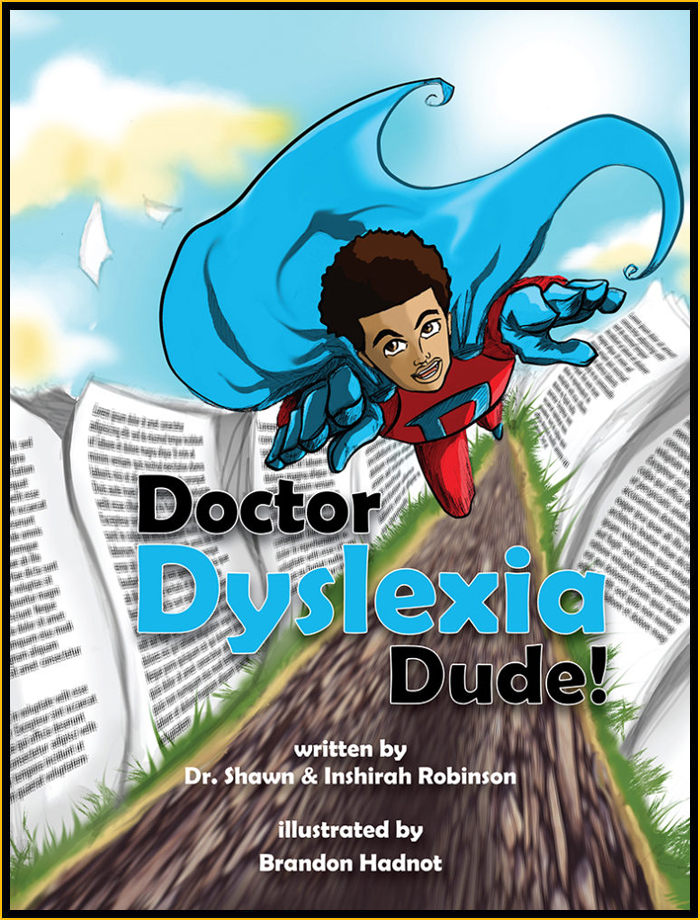 Hacking the Code: The Ziggety Zaggety Road of a D Kid by Gea Meijering
This fun story about a boy with dyslexia is designed with the reluctant reader in mind. It is full of white space with a lay out designed to be less visually overwhelming. The story is full of delightful illustrations. Kids relate to the book on many levels. They are delighted by the mischievous pranks of Kees and his buddies. Kids also learn about dyslexia in kid friendly terms. The author compares Apple and Android to help readers understand the neurological differences of students with dyslexia.
The Hoopstar by Chavon D. White
This book was inspired by a true story about a 12-year-old girl with a love for basketball. Brylane truly shines when she is on the basketball court but worries that the challenges she faces with her dyslexia will get in the way of reaching her dreams. This inspiring story encourages readers to face their challenges with courage and self-confidence. It highlights to value of hard work and self-love.

I Define Me by Kyler Eric Smith
This inspiring story was written by a 9-year-old boy. Kyler is bright and articulate. He is also diagnosed with dyslexia, dysgraphia, and dyspraxia. Kyler refuses to be defined by his learning disabilities. This book allows the reader to walk in his shoes. This peek into Kyler's life, shows how with the right supports and hard work, he overcomes these obstacles.
Cartwheels: Finding Your Special Kind of Smart by Tracy S. Peterson
Another book based on a true story; this makes a great conversation starter for introducing students to information about dyslexia. The author captures the excitement of wanting to learn how to read and the frustration when the pieces just aren't fitting together. When Sloane learns that she just needs to learn a little differently, she discovers her own kind of smart.
Magnificent Meg by Andra Harris
This story starts from the premise that everyone has something that is hard for them. This inspiring story told from the child's point of view tells us how she focuses on her difficult learning to read. In addition to demonstrating a growth mindset and positive attitude, this book also give some concrete tips for parents and kids alike. Not only are their ideas for building self-esteem and confidence, but there are also useful learning tips like using an index card under print to help with tracking. The author includes a list of conversation starters for talking to your child about their learning difficulties.


All the Way to the Top by Annette Bay Pimental
This inspiring true life story is not specifically about dyslexia, but it is about how a child with determination can make some big changes in the world. It wasn't so long ago that the Americans with Disabilities Act came to be. It was finally passed in 1990 after protests demonstrating how inaccessible our nation's capital could be. Known as the Capital Crawl, people navigated the steep Capitol steps without their wheel chairs. The youngest of those that participated was Jennifer Keelan-Chaffins. This inspiring tale tells the story of her historic protest.


Did You Say Pasghetti?: Dusty and Danny Tackle Dyslexia by Tammy Fortune
The narrator of this book is Dusty the dog. His best friend, Danny, is a boy who is struggling in school. This story tackles some of the challenging emotions that come with learning difficulties. It is an excellent resource for building empathy in peers regarding learning differences. The name comes from the tendency for students with dyslexia to mispronounce long multisyllable words.
Junkyard Wonders by Patricia Polacco
Most of us have heard the story Thank You, Mr. Falker about the incredible impact one special teacher had on the life of author/illustrator Patricia Polacco. This follow-up to that story tells more about Trisha's experiences in school as someone who didn't fit in. Trisha wants to spend the school year in Michigan with her dad and her grandma instead of in California like usual. Her wish is that she won't be in a special class anymore. She wants to fit in with the other children. When the first day of school arrives and other students see her room assignment, she is heartbroken. She is indeed in a special class and its nickname is the junkyard. But once again, Trisha is about to meet a very special teacher who will inspire her to new heights.
Bonus! Even more books!
After I published this post, I realized I forgot to add one titles AND I found a new series, so here's a few more!
Lark is the main character and has dyslexia. She and her brother, Connor, solve lots of exciting mysteries together. This is a new series to me, so I was really excited to find it. Kids are going to love the plot line in each book. You can also see the way Lark is challenged to spell as she makes several attempts and crosses a few out in the text. Here are three of the books in the series.
The three titles shown below are:
The Dyslexia Legends Alphabet Book
This is a great collection of famous and inspiring people with dyslexia in a fun alphabet book layout. I've seen some teachers buy a copy of this book, remove the pages, laminate them and display them on a bulletin board. What a great idea!!
I hope you love this collection of children's books as much as I do! Happy reading!
Looking for more books about dyslexia? Check out 10 Can't-Miss Books About Adults with Dyslexia
Are you seeking ways to spread awareness about dyslexia? Be sure to subscribe to my email list and you'll receive a file FILLED with freebies! GO HERE.